Welcome to Atrevida
We welcome you to enjoy the best of Galiano with contemporary West Coast cuisine at our stunning oceanfront restaurant. We offer dining room service, take-out, and room service to our guests and visitors.
Atrevida's fine offerings are created under the culinary direction and management of Executive Chef Dean Hillier and his team. The Pacific Northwest Region's long growing seasons and abundance of fish, traditionally-farmed meats, and local island produce allows Chef Dean to create menus focused on carefully-selected BC products.
We complement our seasonal menus with vegetarian and vegan options, as well as some dairy-free and gluten-free selections. We strive to accommodate all dietary restrictions.
FALL HOURS
Lunch: Monday - Thursday 12-2PM
Dinner: Wednesday + Thursday 6-8PM
Friday 5-9PM (Live Music 5:30-7:30)
Saturday 5-8PM
Prime Rib Sunday 5-8PM
Happy Hour: Friday - Sunday 3-5PM
HOLIDAY SEASON:
CLOSED for the holidays: December 18 - 26
Reopening for Lunch + Dinner: Wednesday December 27
Join us for New Year's Eve Dinner! December 31st
NYE Early Seatings - Two-Course Menu $50 from 5PM-7PM
NYE Four-Course Menu $99 from 7PM-9PM
JANUARY HOURS:
Happy Hour: Friday - Sunday 3-5PM
Friday 5-9PM
Saturday 5-8PM
Prime Rib Sunday 5-8PM
Reservations are recommended, please call 250-539-3388 or email info@galianoinn.com
Please phone 250-539-3388 to make a reservation for Atrevida Restaurant.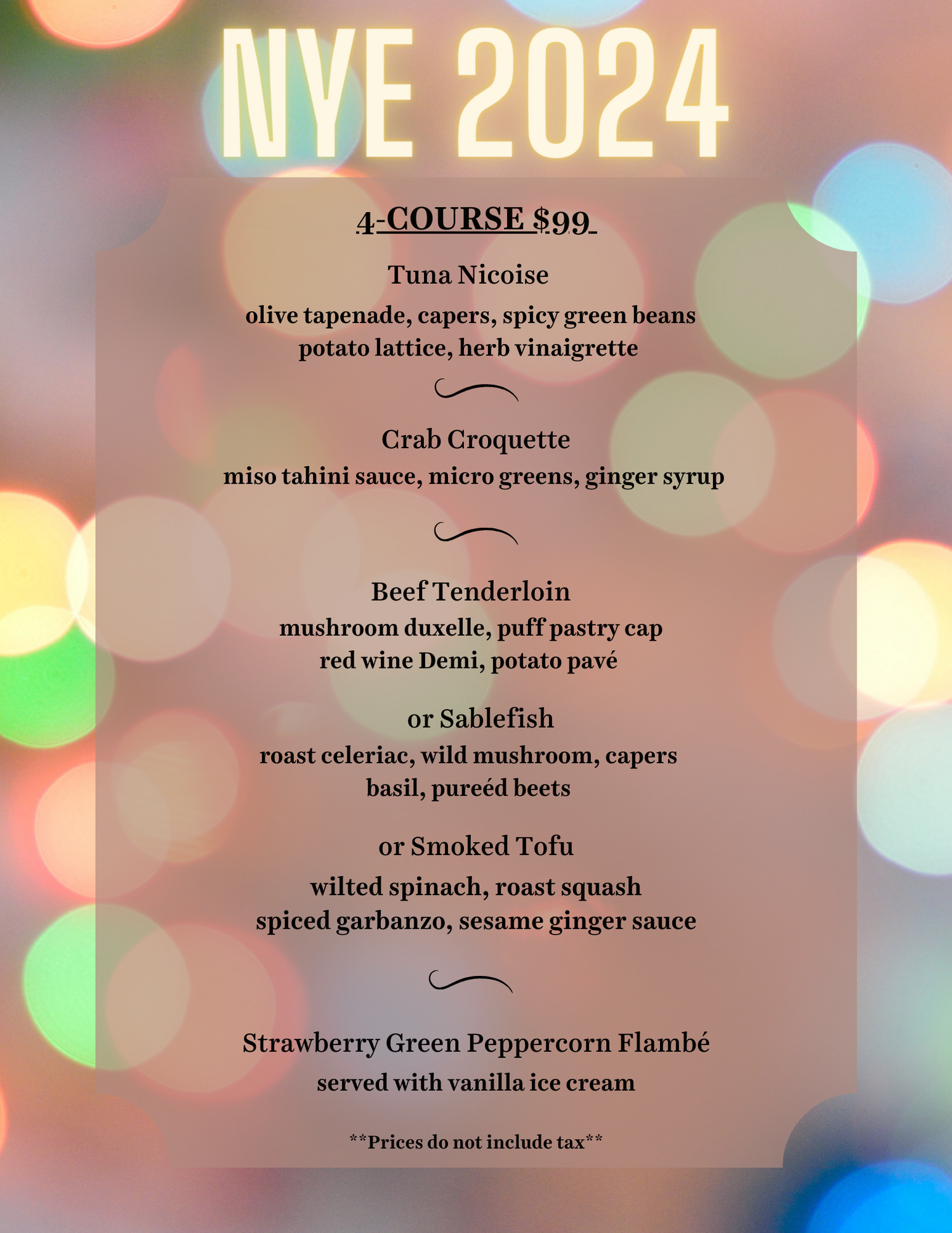 Join us New Year's Eve!
5PM-7PM: Two-Course Menu $50
(Menu TBA)
7PM-9PM: Four-Course Menu $99
(Menu on Left)
Vegan/Vegetarian options also available for all courses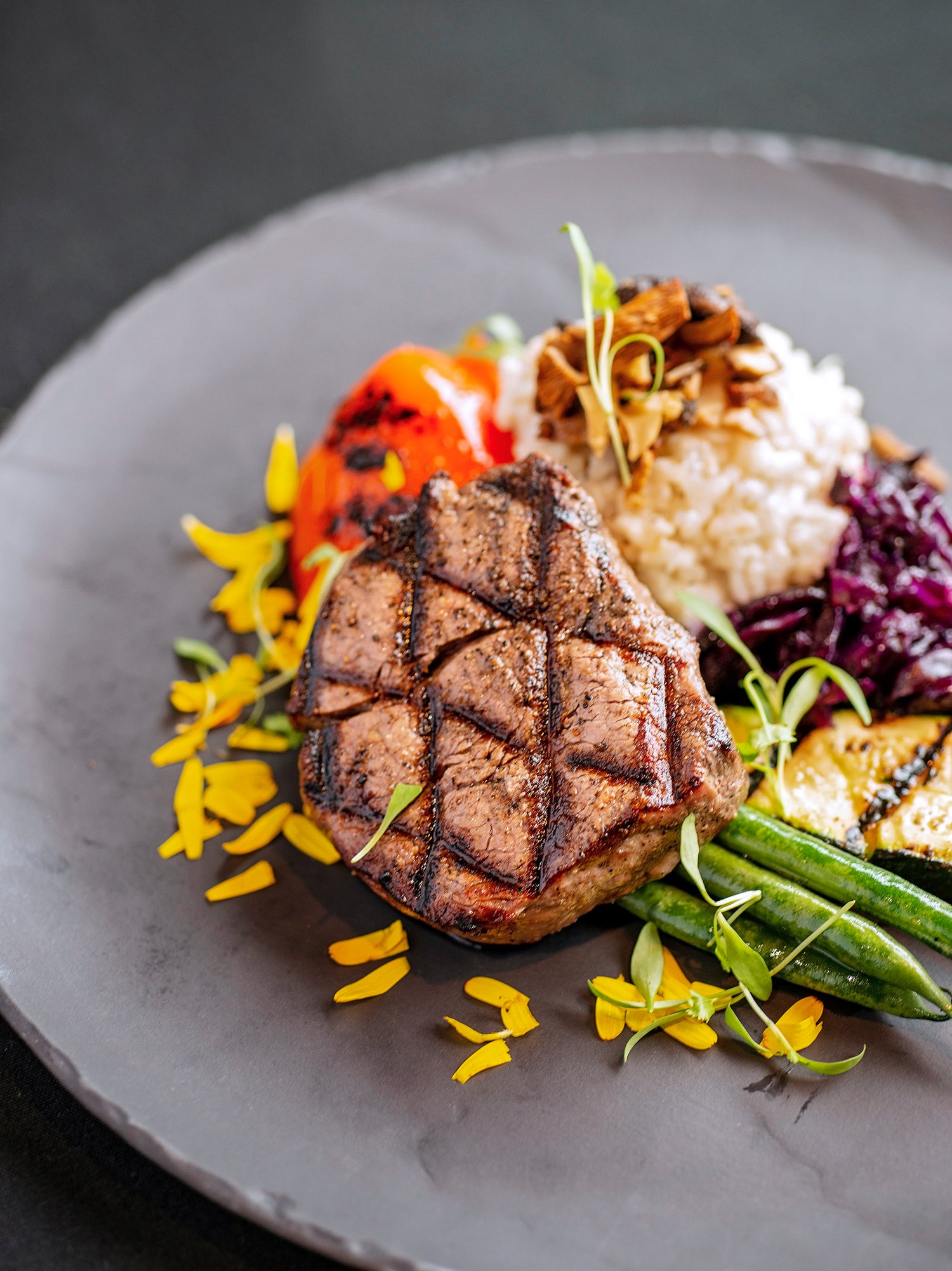 FALL DINNER MENU
STARTING FRIDAY OCTOBER 6TH
APPETIZERS
HERITAGE GREENS (GF, VEGAN) | $12
spiced nuts, dried cherries, local Galiano microgreens, vanilla vinaigrette
KALE CAESAR (GF) | $12
house dressing, parmesan
SMOKED SOCKEYE SALMON (GF) | $16
tomatoes, basil pistou, whipped avocado

CHORIZO PRAWNS (GF) | $16
pan-seared tomatoes, onions, sriracha and garlic
HUMBOLDT SQUID (GF) | $18
cilantro, sambal, onions, peppers and garlic
BURGERS
all burgers are topped with lettuce, tomato, pickles and roast garlic aioli
BISON BURGER $20
CRISPY CHICKEN BURGER $18
BLACK BEAN BURGER $20 (V)
PASTA
EAST MEETS WEST LINGUINE | $26
prawns, oyster sauce, black beans, peppers + onions
CHICKEN + MUSHROOM TAGLIATELLE | $26
artichoke, capers, sundried tomatoes, garlic + onion
BAKED PENNE + GRUYERE (GF) | $24
gluten-free pasta
MAIN COURSES

DAILY FISH (GF) | $38
coconut lemon cream and curried risotto
ROAST CHICKEN BREAST SUPREME | $35
white wine pan jus, whipped potatoes
GRILLED SIRLOIN STEAK | $35
green peppercorn sauce, pommes frites

DESSERTS | 12
Daily Selection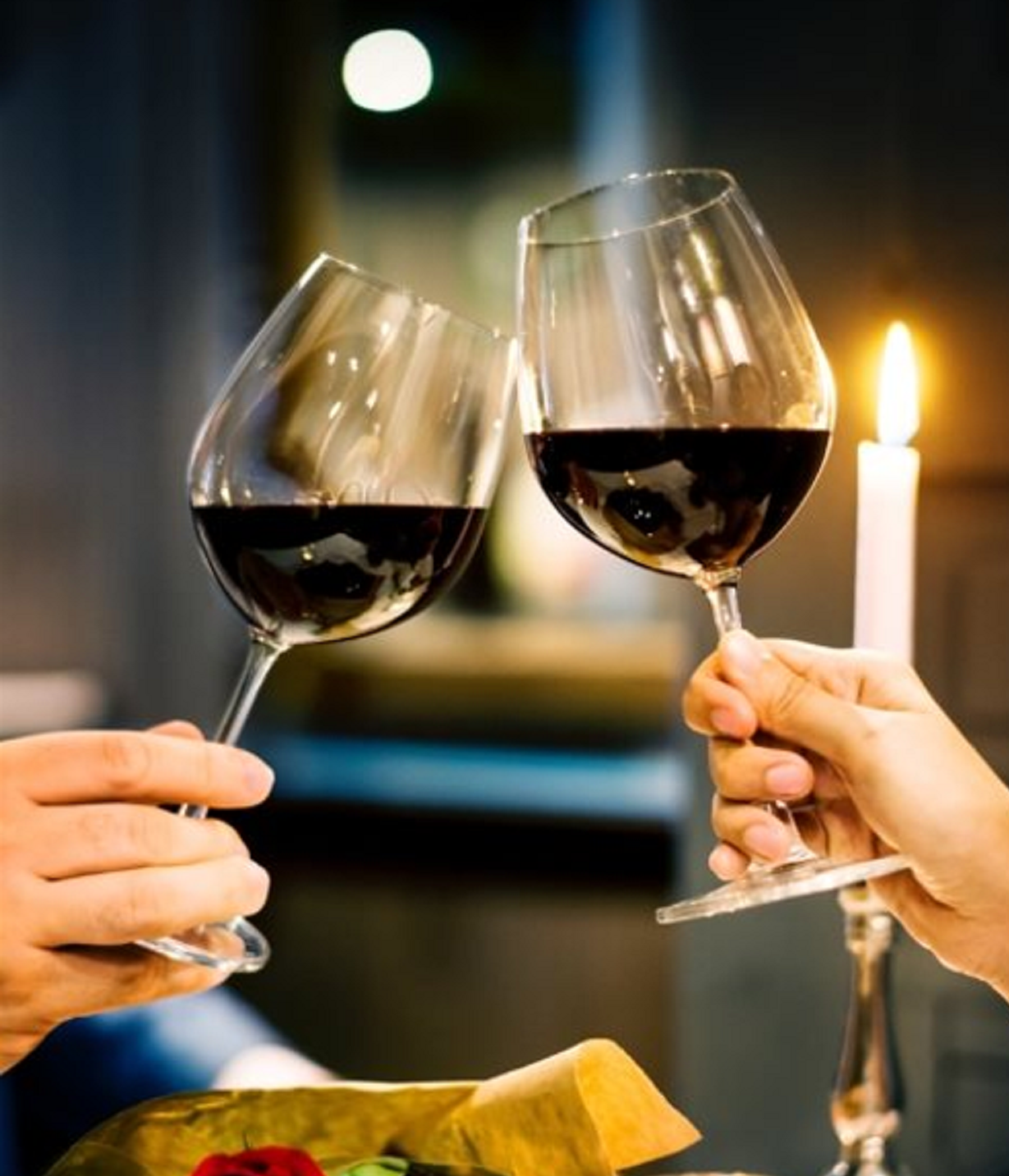 PRIME RIB SUNDAYS - an island tradition!
TWO-COURSE SET MENU | $45


TO START
Choice of Kale Caesar Salad, Green Salad OR Soup of the Day


MAIN COURSES


TRADITIONAL PRIME RIB ROAST mashed potatoes, yorkshire pudding, asparagus, gravy
FISH OF THE DAY brown rice, romesco pesto, seasonal vegetables (GF)
SMOKED TOFU (GF + V) | $40
spaghetti squash, roast vegetables, cashew cheesy sauce

+ Prawns to any dish | $10


DESSERT | $12
daily creation